Advances in technology have allowed seamless gutters to become accessible to the average homeowner. Available in aluminum and copper, these gutters carry a host of benefits that traditional, and pieced together rain gutters don't.
Seamless Rain Gutters' Key Features:
No leaks with a seamless structure
Less clogging from debris collected in cracks
Less water damage on the home's infrastructure
Keeps roofing and walls in great shape
Ensures home safety with less risk of mold and mildew
What Are Seamless Rain Gutters?
Seamless gutters are one solid piece, compared to fitted 10 inch pieces that are bolted together with joints and other adhesives. These outdated models leave room for moisture to build up around the home, leaving you and your family at risk of hazards like toxic mold and mildew.

What's Offered?
We offer a wide variety of custom designed seamless gutters in copper and aluminum. Take a pick from several color variations. Our coatings are also made with high-quality paint that lasts longer and chips less.
See Aluminum Seamless Gutters – a common hybrid of seamless gutters that can be easily tailored with various color schemes.
See Copper Seamless Gutters – which are priced higher than aluminum varieties, but they last longer too.
Our Services
Field Consultations – for taking measurements. We get it right the first time. Give us a call and we'll send out trained experts to calculate the length of new seamless gutters.

Installation – order online after verifying the length needed. We'll ship or install for you. Your pick.

Ask about our custom leaf guards to eliminate leaf buildup, and secure more free time saved from cleaning gutters.
Call today to schedule a consultation or learn more.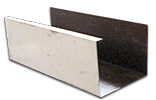 Aluminum – Aluminum rain gutters will never rust, although they can corrode if they come in direct contact with metals such as steel, tin or copper. While not as durable as some other materials, they can often last thirty years with proper maintenance. Their lack of durability, however, can be a problem if a branch falls on them or if a heavy ladder is placed on them, as this could cause them to become deformed and lose their shape. They are one of the most inexpensive types of rain gutters available, and they are easier to install than steel and copper gutters because the joints need no soldering. They are lightweight, making them relatively easy to install, and they are available in a variety of colors, often negating the need for them to be repainted on site. Read More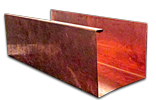 Copper – Copper rain gutters are known for their durability as well as their good looks, although copper is one of the most expensive materials available for making rain gutters. Copper can also turn green over time, which some people find unappealing. They should last a very long time, however – longer than a person's lifetime. Read More
Bonderized Steel – Also known as "Paint Grip Steel", bonderized steel is a type of galvanized steel that is treated with a phosphate bath and chromate dry. The resulting effect is a dull grey surface that is non-corrosive and has a micro-porous surface that acts as a primer, making it ready for the application of paint. Read More