Rain Gutter Types
There are a number of rain gutter types available to fit different style preferences and functions. While some structures may necessitate a specific style rain gutter, most homes can support any of the common types.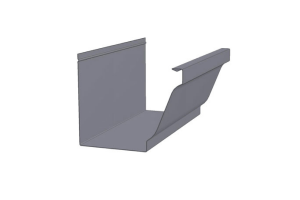 K-Style Rain Gutters
Considered the most popular and affordable, K-style gutters are the most widely-used gutters in America. They hold more water than round gutter of an equivalent diameter, and their unique shape makes them less likely to bend when hit by force, even when made with lighter materials. K-Style Gutters can be had in virtually any gutter material, including aluminum, vinyl, copper, and more. They can be manufactured as seamless or sectional gutters. Importantly, their aesthetic creates a molding style look and blends well with virtually any architectural style.
Box Rain Gutters
Commonly found on older buildings, box gutters are considered durable and easy to repair. They give a home a clean look, as they do not hang on the edge of the roof. Instead, they are designed to fit in the bottom roof or in the eaves of the house. As they are made of wood and lined with sheet metals, the wood can warm or rot over time due to exposure to the elements.
Half-Round Rain Gutters
Half-round gutters, as the name implies, look like a circle cut in half. They can be completely round or have a straight back. They are ideal for Spanish or Tuscan style homes due to their clean, smooth shape. They have a wide diameter, making them ideal for carrying water. They are largely self-cleaning, as they can often flush away debris that enters in periods of light rain. Our half-round gutters are European style with a semicircular design that is supported by external brackets. They allow the water to travel at a faster speed than a conventional gutter, helping to clear debris and silt and effectively acting as a self-cleaning feature.
Flat Face Rain Gutters
Our square-line gutters are slotted and need to be folded around corners, eliminating the use of external angles and fixed with concealed brackets. They are ideal for garages and carports with overflow holes designed in the front.